Nintendo Switch VR Headset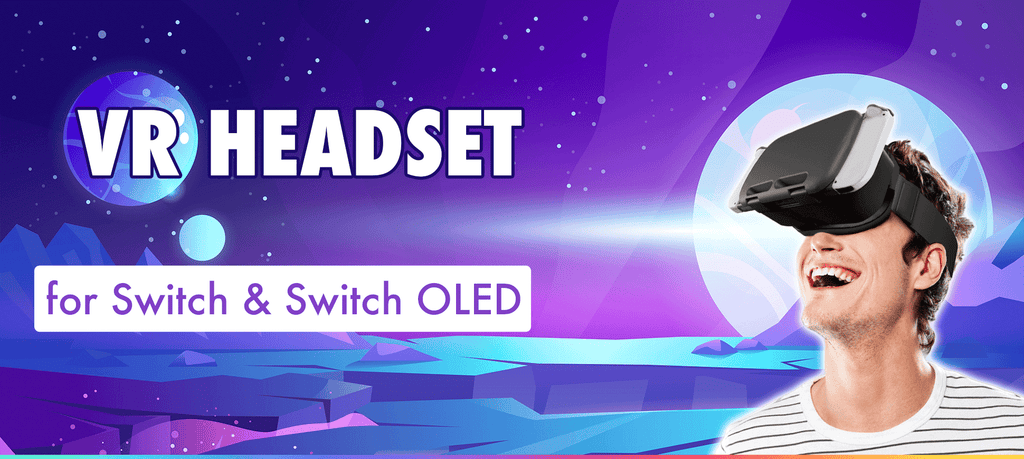 Thanks for checking out the Orzly Blog!
Here is a handy guide to help you get set up and some tips and tricks to help you get the most out of your Nintendo Switch VR Headset. Check out the video to get you started!
Select a Nintendo Switch game which supports VR functionality. Games include:
Spice and Wolf VR and Spice and Wolf VR 2
Reflex Unit 2

DEEMO - Reborn -

Nintendo Labo Toy-Con: Neonwall

Rooms: The Adventure of Anne & George

The Knight of Queens

Laid-Back Camp - Virtual - Fumoto Campsite and Laid-Back Camp - Virtual - Lake Motosu

Nintendo Labo: VR Kit

The Legend of Zelda: Breath of the Wild

Super Mario Odyssey

Captain Toad: Treasure Tracker

Super Smash Bros: Ultimate
Setup
Set your VR compatible game into VR mode or search for "Cardboard VR" in the Switches YouTube app 
Place your switch into the headset and latch the Switch Guard. 
The correct way to mount your headset may vary from person to person (shape of your head and features). It is critical to do it the right way to avoid discomfort during use.
Loosen all the straps. 
Place the VR Headset on your face, where you'd expect it to be when playing a game.
Grab the Rear Pad and make sure it sits under the base of your skull (the "bump" on the back up your head).
Now move the VR Headset onto your face in a reasonably comfortable position and set the top strap.
Next, grab both the left and right strap, and tighten the VR Headset on your face – not too tight as this may cause discomfort.
Finally, tilt the VR Headset a little to find the most comfortable position.
If you feel the VR Headset is leaning forward: tighten the top strap a little more.
Make sure the VR Headset feels comfortable and balanced on your face. Tilt or shift the headset if necessary.

Motion Sickness
Try the VR headset in short bursts at first.
When you first try the VR headset or a new game, keep the headset on for only five minutes. Assess how you feel afterwards. If symptoms like dizziness, nausea, blurred vision or other similar issues arise stop immediately. Players can get nauseous if motion is not quite in sync with what the mind expects. We recommend starting with simpler experiences so that the body can adjust. Please note people will adapt to VR at different rates.
Take regular breaks.
Taking breaks in VR can also help prevent nausea and dizziness. Be aware that you may not even realize how affected you are until you take off the headset. This is why it's a good idea to set a timer on your phone to remind you to take off the VR headset and see how you feel. Even if you feel fine, walk around, get some fresh air and take some time before you put it back on and play again. We recommend a 10 to 15-minute break for every 30 minutes of VR play, even if you don't think you need it.
Do not use VR when you're sick.
Your ears, eyes, sinuses and brain are all key to feeling physically stable and balanced. If you are already suffering from a cold, sinus infection, headache, eye problem, upset stomach or other illness, using a VR headset can make nausea and other symptoms worse.
If you have a chronic health condition, especially one that affects your balance, eyes or inner ears, check with your doctor before trying the headset.
Tips and Tricks
Take a few minutes to adjust
To get the perfect fit, also adjust during game play as needed. For beginners, the best start with VR would be by starting the first experience by simply sitting down on a chair. This gives a better "grounded" feeling. Things feel more stable for the player thus reducing the chance of nausea than when standing up.
Make sure you have enough space around you.
Some VR experiences may require movement. Please ensure you have enough room around and above to play comfortably and avoid injuring yourself, others or damaging property.
Take regular breaks
When playing any video game, it's beneficial to take frequent breaks to reduce muscle and eye strain. Nintendo recommends taking regular breaks – at least every 30 minutes.
Adjust brightness regularly Hold the home button to quickly adjust brightness on the fly for light or dark gameplay areas.
Relax your shoulders and neck regularly After playing for a while your head will naturally lift up and your shoulders tense. Be mindful to relax the shoulders and bring down the head to reduce strain.

Maintenance
Cleaning your VR Headset
To clean the shell of your VR Headset you can use household hygiene wipes. Make sure they are not alcohol based as this may damage your Headset. Allow Headset to dry completely before use. Do not expose to high heat or direct sunlight to speed up the process.
Lenses may require cleaning due to fog build up or dust. If you feel the need to clean the lenses: use a clean microfiber cloth. One is provided with your headset. Do not attempt to clean your lenses with your fingers or an item of clothing as it may damage your lenses.
Do not disassemble; there are no serviceable parts inside.

During installation/use/disassembly please make sure that hands are dry to avoid damage to you and the product.

Please do not submerge the product in water or any liquid. This product is not waterproof.

For external cleaning, use a soft, clean, damp cloth only. Use of detergents may damage the casing finish and leak inside.

If product does come into contact with water please cease use until properly checked. Continued use may cause a fire or electric shock.

Do not expose to dust, high humidity, high temperatures or mechanical shock.

Do not expose the product to heat sources or fires directly.

Keep away from strong magnetic forces as these can cause the product to become non operational.

Do not expose to direct sunlight or wet weather conditions.

Do not use if the equipment is damaged.

Not recommended for children under the age of 10.

Adult assistance and supervision may be required when in use by minors
3 comments