Orzly Pro-Fit Glass Screen Protector For OnePlus 6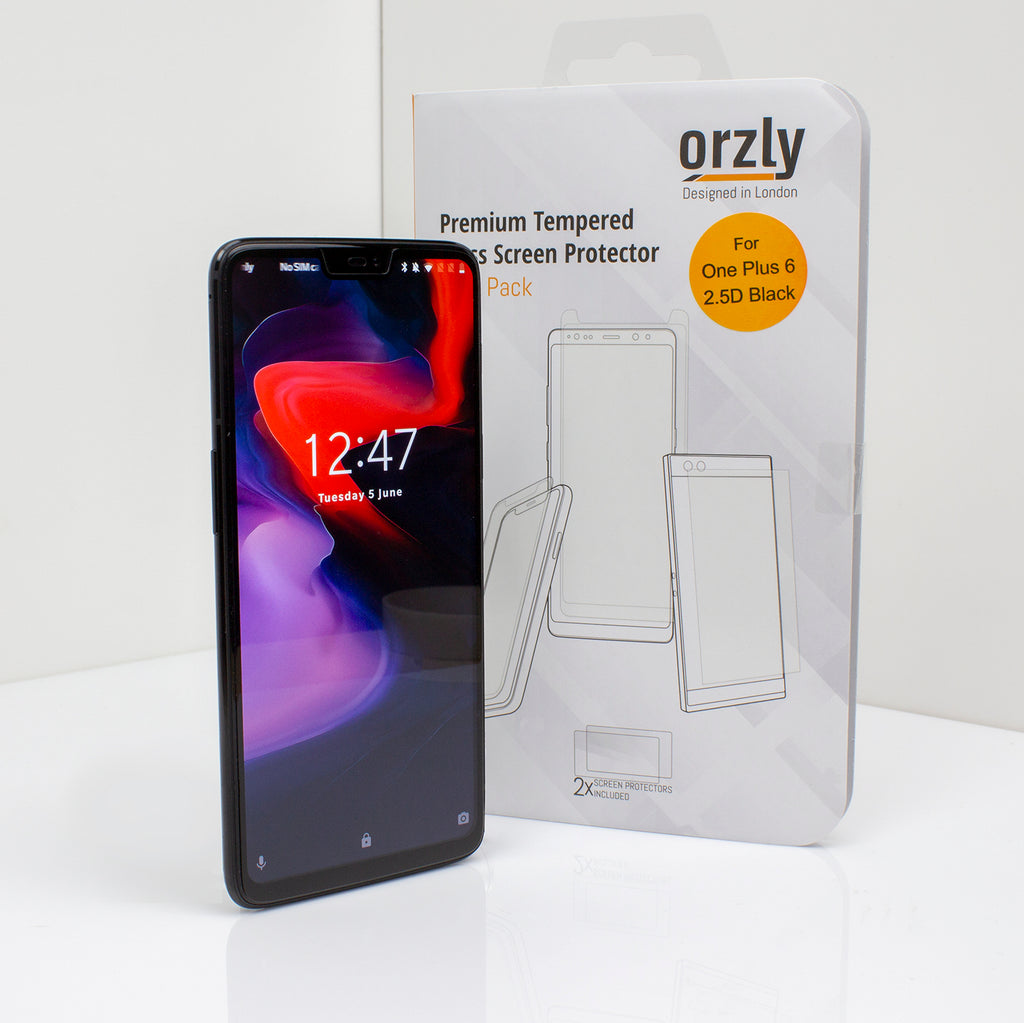 The Orzly Tempered Glass Screen Protector offers all-round protection for your OnePlus 6's curved screen against surface damage from day to day use.
This post aims to explain the features of this screen protector, as well as to provide some handy tips for installation. Should you need any assistance with your product then email us directly at help@orzly.com
To begin, we must explain that the OnePlus 6 has a curved screen which is much more curved than something like the iPhone X. This in itself creates challenges to developing an effective screen protection solution. To understand more about curved screen phones and the challenges faced, please refer back to this previous post:
http://orzlyblog.com/orzly-pro-fit-tempered-glass-screen-protectors-explained/
Going back to the OnePlus 6, the options we had ranged from a clear tempered glass screen protector which would have been sized to only fit the flat portion of the phone's screen and would not only look ridiculous but would also hinder navigation of your touchscreen. A second option was to do a similar product to what we have launched, but having only the coloured frame sections with any adhesive on them. This version would have needed a dot matrix grid over the clear panel to avoid the suction effect. We have launched this type of screen protector for previous OnePlus phones and found that most of our customers were not big fans. So for the OnePlus 6, we decided on this full framed (case friendly) & full glue version.
Read on to learn more about these features:
The Black Frame:
This is simply a plastic PET sheet added on to a traditional glass screen protector in order to achieve a full cover screen protector for a curved phone.
Firstly, the silk print colour finish helps to seamlessly match the edges of the screen protector to the bezel of your handset and give it an invisible or barely there effect.
Second and more important, is that it is this printed area of the screen protector where the adhesive is applied in order to ensure that the rigid sheet can fit over the curved surface area
Case friendly Sizing:
Although this glass screen protector is a full coverage solution, we have sized it to be less than a millimetre smaller than the actual phone's screen to ensure it can be used alongside Orzly protective cases. The screen protector should work with most other cases however we are understandably unable to test or guarantee their compatibility with cases from other manufacturers.
The uncovered area is minimal and if used with a case, there will be no exposed area on your phone.
Full Adhesive:
As explained above, there is an alternate version of this product which only uses glue on the framed section of the screen protector. However, this uses an additional feature of a dotted grid over the clear panel which we have found to be very unpopular with customers.
We, therefore, developed this full glued version which because of the curved nature of the OnePlus 6's screen, also brings with it some challenges before and during installation. Therefore we recommend you read the installation tips we have included below and be very careful and patient with your installation.
Tips for installation of the Orzly Pro-Fit Glass Screen Protector for the OnePlus 6:
Be EXTREMELY careful with cleaning your screen prior to installation and ensuring it remains dust free

Peel off the Screen Protector from its backing very slowly and ONLY handle it by holding it from the edges making sure not to touch the adhesive back side at all

Immediately after peeling it off, line up the screen protector over the phone for the best placement and place it on the phone gently. Do not worry if you make an error as it can be lifted and re-applied

However please do not peel off the screen protector from its backing and then place it down elsewhere at any time as it will attract dust as soon as it is exposed to air

If you spot any dust on either the phone's screen or the screen protector then use the included dust stickers to gently press down on the area of dust and lift the dust speck off before placing the screen protector down

Once placed on the phone, you should press down on the edges of the screen protector to allow the screen protector to start attaching to the phone. You will see a natural suction effect occurring which should cover the majority of the screen.

If you see any bubbles after the suction spread, then press them down using your fingers or the included microfiber cloth until they are gone. Don't be afraid to use pressure

If your alignment is slightly off, or there are any dust specks, then you will not get a perfect bubble free installation

In order to correct any alignment errors, simply lift up the screen protector by one edge very carefully until you can gip another corner with your other hand.  Then repeat the alignment process and laydown again. The main thing is to ensure no contact with the adhesive side, and minimise the risk of dust getting on either the protector or your screen during this process

There may be slight variations with each OnePlus 6 phone that are invisible to the human eye, and therefore every installation may result in a different success rate. However the best result from a successful installation will result in only a tiny bubble or two at the corners of your screen. It is almost impossible to get 100% bubble free installation because of the curve of the OnePlus 6, however the below images should show you different variations of a successful installation:
4 comments